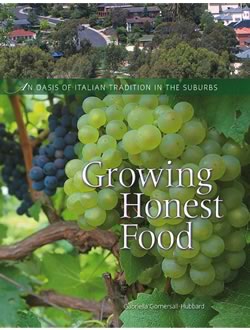 Review by Gail Thomas
Eager to keep their Italian traditions alive after coming to Australia in 1965 Lina and Tony Siciliano started a new life together in suburban Essendon. With only a small garden they yearned to grow their own food so in 1981 acquired a barren block of land in East Keilor where they planted fruit trees and vegetables and raised chickens. Thirty years on and the couple have transformed the site into a profitable business boasting a productive bounty of 400 olive trees, an orchard, vegetable garden and their Rose Creek Estate vineyard.
Taking a month by month approach author Gabriella Gomersall-Hubbard has documented the family's sustainable way of life from preserving – think big tomato day and sausage making – to producing olive oil and wine. Colour photos throughout capture the essence of the Siciliano's seasonal activities in the garden and kitchen while traditional recipes reinforce that achievable goal of growing organically, knowing where your food comes from and ensuring low food miles. Try a spicy pasta with potatoes and cavolo nero or the slow cooked capretto with fresh peas.
Review by Penny Woodward
This lovely book is full of delights. For those of us lucky enough to have visited Rose Creek Estate, to have met Tony and Lina, and eaten their food, this book is a wonderful evocation of their lives and lifestyle. Read more