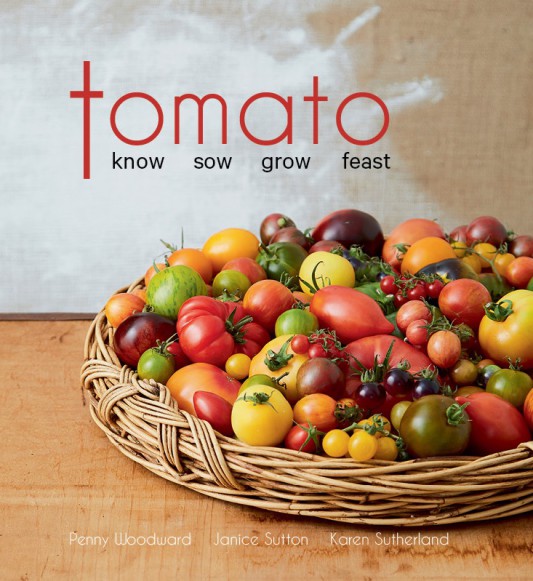 By Penny Woodward, Janice Sutton, Karen Sutherland
It's tomato season again. So don't forgot about our beautiful Tomato book, written for Australian conditions.
Tomato: know sow grow feast, written and published by Penny Woodward, Janice Sutton and Karen Sutherland.  This book was awarded the Gold Medal in the House and Garden category of the Independent Publisher's 2019 Awards (the IPPYs), judged against books from all over the world.  Early in 2020, it shared the Book Laurel from the Horticultural Media Association Australia for the best gardening book in the previous two years. Hardcover. RRP $65, but $60 from this site.
Tomato: know, sow, grow, feast is a hardback book celebrating Australian heirloom tomatoes. These colourful heritage gems are full to bursting with juicy deliciousness and are enjoying a renaissance in Australia today. This book brims with information about heirloom tomatoes, so that tomato lovers throughout Australia can identify, learn to grow and enjoy them.
Tomato explains why a 'red tomato is red', why 'real tomatoes' taste so good, and why tomatoes are so 'good for you'. The book also leads both experienced and aspiring gardeners through the practice of organic heirloom tomato growing and explores the history of heirloom tomato cultivars in Australia. It also provides, for the first time, a comprehensive description and extensive illustrated list of the more than 220 different cultivars of heirloom tomatoes available from seed suppliers in Australia today. What also sets Tomato apart, is the book's extensive list and description of heirloom tomato pests and diseases, painstakingly researched by gardening expert Karen Sutherland, that includes an indispensable pest and disease chart to help gardeners identify and control them.
Uniquely too, for a gardening book, Tomato includes a substantial dedicated cooking and recipe section, where internationally award-winning cookbook author, Janice Sutton, explains not only how to preserve tomatoes and create the perfect tomato passatta, but also delves into the enticing realm of heirloom tomato variety flavours. The cooking section also contains more than 60 delicious recipes (each with its own beautiful full-page image) shared by a raft of talented chefs, cooks and passionate tomato lovers from throughout Australia and beyond – including some of Australia's most respected culinary icons: Peter Gilmore, Stephanie Alexander, Maggie Beer, Sally Wise, Christine Manfield, Mark Olive, Matthew Evans and the Agrarian Kitchen's Rodney Dunn.
It is for tomato lovers, gardeners and cooks; and all those who love beautiful books.
"This is the ultimate book on tomatoes, brimming with information based on experience. It covers everything anyone ever needs to know about selecting, growing and using the best and tastiest tomatoes in all districts and climates." Peter Cundall 2018
To find out who wrote what and to read the Table of Contents and see a couple of short extracts from my section, then Read more