Mulches
Mulch is an essential element in an organic garden, and now is the time you should be thinking about adding it to your garden.  Mulch is simply a layer of natural material, placed on the soil surface, that conserves moisture, protects and adds nutrients to the topsoil, and guards against climate extremes. It will also keep vegetable and herb leaves clean by preventing them from trailing in the dirt and stop fungal disease spores in the soil from bouncing onto leaves with raindrops. (more…)
Asparagus
by Penny Woodward
Asparagus (Asparagus officinalis) is a tough, rewarding, long term vegetable that once established will give many years of delicious, nutritious spears. A perennial plant, it is a member of the lily family (Liliaceae) and has been grown and eaten for more than 2,000 years. If you haven't ever tried growing asparagus, you probably should, and now is a good time to plant it. (more…)
Tomato: know sow grow feast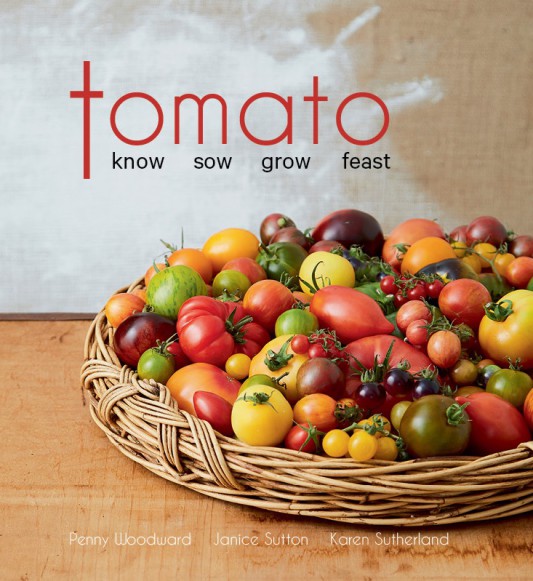 By Penny Woodward, Janice Sutton, Karen Sutherland
Our book Tomato know sow grow feast has won a gold medal in the INDEPENDENT PUBLISHER AWARDS (the IPPYs).
So hard to believe and so unexpected. We won the gold in the Home and Garden category, judged against books from all over the world. Thanks so much to my co-authors Karen and Janice (and Janice for entering it!), who made it such an amazing book, to Ian Wallace who designed it, Dannielle Vera who edited it and Kirsten Bresciani for the amazing cover photo. And Margot White who suggested it in the first place. And everyone else who talked to us and allowed us to use their stories, photographs and recipes. It was a community effort.
60. HOME & GARDEN
GOLD: Tomato: Know-Sow-Grow-Feast, by Penny Woodward, Janice Sutton, and Karen Sutherland (Self-Published)
SILVER: Small Space Living: Expert Tips and Techniques on Using Closets, Corners, and Every Space in Your Home, by Roberta Sandenbergh, AIA (Skyhorse Publishing)
BRONZE: Straight Dirt: New York's Premier Landscape Designer Tells It Like It Is, by Steve Griggs (Hugo House Publishers)
Our book is  in bookshops and can be purchased online from my website shop . If you would like your copy signed to a specific person, then send me an email through the contact page. I'll be talking about tomatoes and the book on radio and in person over the coming weeks and months (and years probably) and there are ongoing reviews in newspapers and magazines.
It is for tomato lovers, gardeners and cooks; and all those who love beautiful books.
"This is the ultimate book on tomatoes, brimming with information based on experience. It covers everything anyone ever needs to know about selecting, growing and using the best and tastiest tomatoes in all districts and climates." Peter Cundall 2018
To find out who wrote what and to read the Table of Contents and see a couple of short extracts from my section, then (more…)
Tisane anyone?
Tisanes or herb teas have been in vogue in southern Europe since Roman times. The fictional detective Hercule Poirot often needed  a tisane after a particularly trying day. Today herb teas are increasing in popularity with the recognition of the harmful effects of too much coffee and ordinary tea. But aren't herb teas expensive and don't they taste awful? Not true! Especially if you grow your own, and can experiment with different combinations. Fresh or freshly dried leaves and flowers taste much better than the often musty plant material of questionable content and origin found in shops. Recent research by New York City high school students using simple DNA techniques, found that several herbal teas contain ingredients not listed on the pack. So if you grow and use your own, at least you can be certain about what you are drinking. (more…)
Snail war
Snails, snails and more snails. Our winter and spring have been very wet and as a result snail numbers increased dramatically. In my garden I used to find them in every dark corner and under every leaf. Every time I planted out a seed or seedling the fresh, succulent green leaves would provide supper for a snail. Even quite well established plants were disappearing under the onslaught. I had to do something. Over time I tried every recommended remedy, each with only limited success but finally I came up with a combination of solutions that seems to be keeping the numbers under control and protecting vulnerable plants. These tactics also work for slugs. This is the story of my private war waged, often under cover of darkness, on snails. (more…)
You say tomato… why some fruits are forever doomed to be called veggies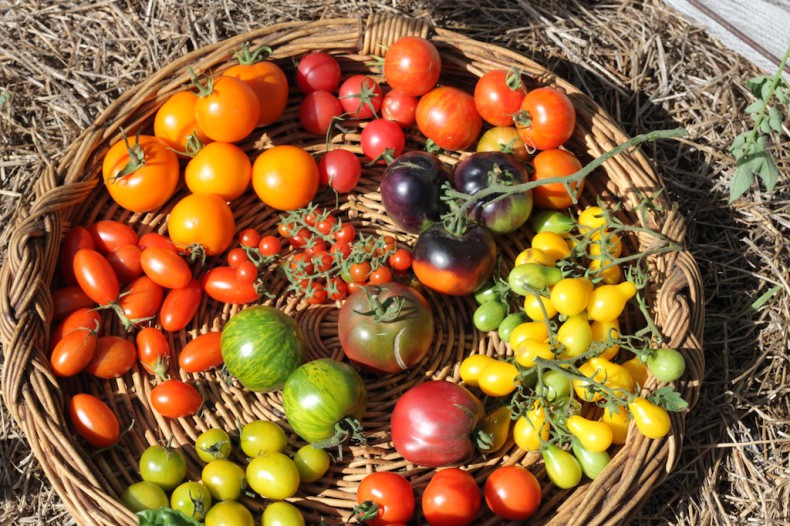 Gregory Moore, University of Melbourne
When it comes to fruit and vegetables, the most common battleground (for parents and public health experts alike) is getting people to eat them. But there's a battle over semantics too, because many of the things we call "fruit" and "vegetables" … aren't.
In botanical terms, a fruit is relatively easy to define. It is the structure that develops from the flower, after it has been fertilised, and which typically contains seeds (although there are exceptions, such as bananas).
But while there is no doubt that tomatoes, cucumbers and pumpkins are fruits in the botanical sense, any linguist will tell you that language changes and words take on the meaning that people broadly agree upon and use. We live in a linguistic democracy where the majority rules. (more…)
The Burren Perfumery
The Burren Perfumery was one of the highlights of our visit to Ireland last year. Not so much for the lovely creams, perfumes, soaps and more, that they produce. But for the herb garden. The creams are fabulous too (and we bought quite a few) but the herb garden was delightful. We were there in mid-June, so expected a riot of colour, but it had been a very cold wet spring so the colour palette was more muted. This however allowed us to see the beautiful sculptural stone walls and paving as well as the more subtle coloured flowers and the range of greens, greys and browns of the leaves and bark.
The Burren
This beautiful wild region of Ireland is unlike anywhere I have seen before. Located in the north-west corner of County Clare on the west coast, even its Irish name boireann signals the topography, as it means 'place of rocks'. Covering 250 square kilometres, the exposed limestone is in some places up to 780 metres thick. Since being laid down progressively up to 340 million years ago, these great slabs have been gradually worn away in places, mainly by glacier movement, creating 'grikes' (the cracks in the limestone) and 'clints' (the blocks of limestone left behind). At the same time, the glaciers deposited rounded boulders in random positions, these are known as 'erratics' (see the last photo for and example). I love the names!  This region is dotted with ancient ruins and tombs as well as being a natural paradise.
(more…)
The best of gardening luck to you!
Even the best gardener needs a bit of luck sometimes. So we lesser mortals who sometimes struggle to keep our favourite plants alive might do well to consider some of the practises of early gardeners. In ancient times every care was taken to make sure no evil would enter the garden. Gardens in those days were also much more practical, as they often supplied all the the essential food and the cures so it was important that they were productive. If your garden failed you might well starve. Many herbs were supposed to repel devils and witches but the Romans went a step further and would "place the skull of a mare or she-ass that hath been covered" and they believed that this would ensure that their gardens were fruitful. It is still possible to see a carved horses head over a gateway into old gardens today. (more…)
Drumstick allium
Over the last couple of years I have been more than a little preoccupied with one species in the Allium family, namely garlic (Allium sativum). So much so that I have created a website all about this fascinating and beautiful vegetable. You can see it here. There are however beautiful ornamental Alliums that also deserve a place in our gardens. The one that is looking elegant in my garden at present is A. sphaerocephalon or drumstick allium. My garden is pretty low on elegance and high on profusion and confusion so it is a very welcome member. (more…)
All words and images © Copyright Penny Woodward 2021.