Review by Gail Thomas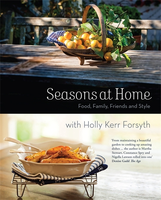 In her latest book house and garden expert Holly Kerr Forsyth has compiled a collection of seasonal recipes to celebrate the bounty of fresh produce from the garden.
Each chapter covers a season and along with contemplating a tomato and anchovy tart or rhubarb streusel cake for spring picnic hamper, there are plenty of garden-related hints on bringing flowers indoors, how to keep cut flowers fresh and skillfully arranging them. Summer sees grape and nectarine gratin or making an eye-catching moulded frozen ice bowl dotted with herbs and flowers, a perfect receptacle for serving prawns or an icy fruit sorbet. Getting into the festive spirit there are also details for making decorative flower wreaths, daisy balls and centerpieces for the festive table.
Carrot and ginger soup will bring out the autumn glow while quinces, with pork, baked, in a gooey cake or add to an aromatic autumn fruit pie packed with apples, plums and apricots show off their versatility in a season when it's also the time to stock up the store cupboard. Preserves, fruit chutney or green tomato and chilli jam and don't forget to think ahead and plant hyacinths, daffodils, tulips and other bulbs for spring flowering
Winter brings hearty offerings, an array of curries, poached pears with star anise and juniper or stuffed baked apples while you can also turn your hand to making potpourri, studded orange balls or pomanders, there's even hints on keeping poultry – and the perfectly boiled egg.
Seasons at Home reflects Holly Kerr Forsyth's unique style, passion for food and practical information on flower arranging, decorating the table to suit an occasion, and growing potted plants to bring indoors.
by Holly Kerr Forsyth, MUP $34.99