Review by Gail Thomas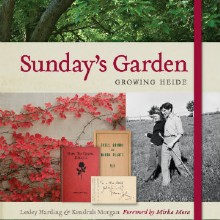 The Heide Museum of Modern Art at Bulleen in Victoria was a neglected former dairy farm when Sunday and John Reed purchased the property in 1934. At the end of their lives and after fifty years of dedication Heide was rich with exotic and native flora and boasted a stunning cottage-style kitchen garden.
As art benefactors the Reeds also created a nourishing environment for the artists they championed including Sidney Nolan, Albert Tucker, Joy Hester, Charles Blackman and Mirka Mora some of whose artworks are dotted throughout the book together with historic photos and more recent garden images. Nolan's poems to Sunday and a dramatis personae of those who contributed to Heide's rich tapestry and history all add to this fascinating read while a timeline from the 1800's through to present day documents the couple's lives, work and garden plantings on the property.
In the 1960's Sunday's love of roses is reflected in her rose planting list – Heide's most famous rose Mutabilis was immortalized in Sidney Nolan's 1945 painting – Sunday and Susie Bruntion set up Heide Herbs selling herbs propagated in the Heide I kitchen garden and there's the construction of Heide II, a modernist home on the property which was sold to the Victorian Government in 1980 while the following year Heide Park and Art Gallery is opened.
A comprehensive glossary of trees and plants has been compiled by Heide's current head gardener Dugold Noyes, in recent times the Heide II kitchen garden and rose walk have been restored and the wild garden is the focus of a major restoration project.
This captivating book will appeal to both art and garden lovers as it explores this intriguing property and its creators.
by Lesley Harding and Kendrah Morgan  Miegunyah RRP: $45.00