Review by Gail Thomas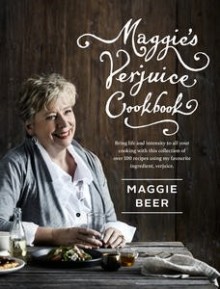 When it comes to verjuice, the juice of unripe grapes, Maggie Beer's effervescent personality and enthusiasm sum it up. "I just can't help myself when it comes to verjuice! I use it in place of lemon juice or vinegar to bring the gentlest lift of flavour to everything – from grilled vegetables, meat or fish, pastas, risottos, salads and hearty one-pot dishes to delicate custards, old-fashioned puddings and decadent tarts. I can't imagine cooking without it."
Verjuice is a virtuoso performer, an acidulant that has been used in Europe and the Middle East peasant cultures for centuries. After reading about this fascinating ingredient in various books, and given her affinity towards sour flavours, Maggie's interest was piqued. In 1984, with an unsold crop of riesling grapes on their farm, Maggie enlisted the help of a winemaker in an endeavor to produce verjuice rather than see the fruit go to waste. However without a recipe, and some exploding flagons later, a certain amount of fine tuning was obviously warranted! Today Maggie's verjuice is a kitchen staple in households everywhere and a mainstream product readily available in the marketplace thanks to her foresight, tenacity and pioneering spirit.
Maggie is attributed with being the first in the world to make verjuice on a commercial scale and it is now being produced commercially in many countries around the globe.
Depending on the grape variety used the resultant verjuice can reflect different flavour profiles – as well as her classic verjuice Maggie also produces a pink-hued Sangiovese version which boasts a slightly sweeter character perfect for dessert applications – Maggie adds, "It's also pretty special in a gin and tonic!"
Verjuice's versatility extends from being equally at home as a refreshing drink to being a key ingredient in the more than 100 recipes Maggie features in the book, each evocatively photographed by Sharyn Cairns. Use it to deglaze a pan of roast vegetables, add a lift to soups, casseroles, pasta and rice dishes, splash some on seafood, in salad dressings and more. This beautifully produced book is bound to inspire as Maggie guides you through a collection of dishes across every course in a meal from beginning, middle to end – delicious!
by Maggie Beer, $39.95 Lantern