Beneath the fabulous old trees of the Carlton gardens and in the Heritage listed Exhibition Building, it is not possible to imagine a better setting for a flower and garden show. And I think the 2012 show is one of the best in recent years. Although I don't agree with all the judges decisions, there are some very deserving winners including the gold medal equal best in show Home.Life by the Tree and Shrub Growers Victoria (see above and below). Carolyn Blackman of Vivid Design has done a great job of displaying the variety of flowers, herbs and vegetables being promoted by Oasis Horticulture; and as usual the Debco Avenue of Achievable Gardens is a delight. Better I think than any other year. As I write this there are still two days of the show to go, and the weather, which has been perfect for the last three days, looks as if it is going to remain kind. So, if you have any interest in gardening, or just love beautiful things, make your way to the Flower and Garden show this weekend. If you can't go, or just want a taste of what you will see, look at the pictures in the rest of this article.

Other highlights are are the fabulous displays of flowers in the in the Exhibition building. My favourite here, and the gold medal winner, is the North Street Flowers display. And outside, I always love the hanging basket competition, run by the Royal Horticultural Society of Victoria. Here my favourite is a collection of Pest Repellent Herbs.
Another gold medal winner was the stand constructed by Lille Fro Foundation (a not for profit NGO) by Prue Metcalfe Design. Put together by volunteers, this greenhouse is a smaller version of greenhouses constructed in remote villages which are cut off for 6-8 months during harsh winters in Northern India. To find our more about what they do, go to Lille Fro
Phillip Johnson has done it again with a wonderful display showcasing a sustainable landscape where the design centres on water collection and conservation. The following pictures show a little of Equilibirum by Phillip Johnson Landscapes & savewater!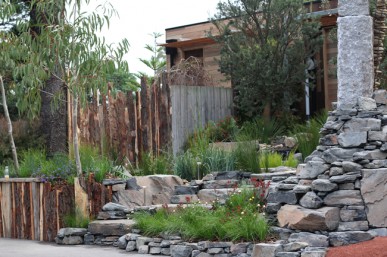 Vivid Design does exciting things each year with colour and flowers, herbs and vegetables. This year is completely different from the last few years with vibrant collection of Oasis plants, representing a giant flower. There is lots of space to walk around and look at every different plant. I particularly liked the 'Seville' chillis below. Snippits of the the display are below.
The other part of the show that I loved is the Avenue of Achievable gardens sponsored by Debco and constructed by garden design students from the TAFEs around Melbourne. First of all the lovely, cheerful, colourful Debco display followed by some the the students gardens.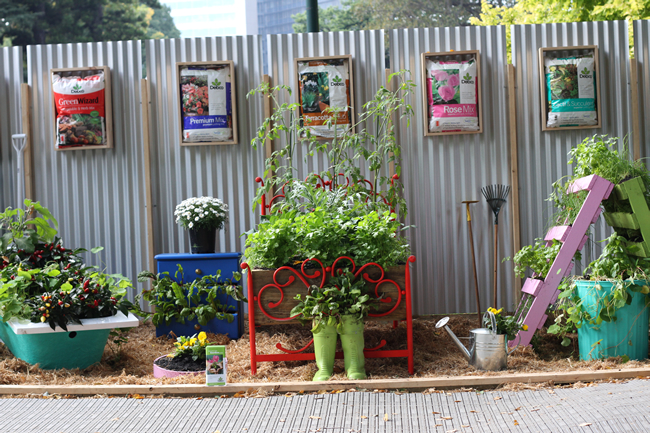 Finally, all around the site, garden people are getting together and sharing their knowledge, if you have a question go to the NGIV question and answer stand where you will find any number of experts ready to give you their answer (and they don't always agree!) and every day there are other experts talking on a range of topics on the main stage in the Exhibition Building. At 2.30 Judy Horton gathers together a panel to answer your questions. The following picture is of four such 'experts' enjoying themselves as well as answering questions ( L to R Kevin Walsh, Colin Campbell, myself and Attila Kapitany).