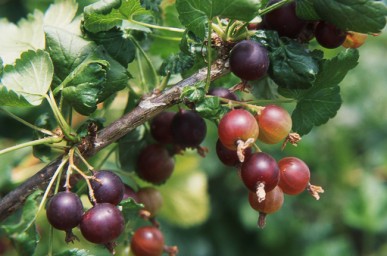 By Gail Thomas
Jostaberries (Ribes nidigrolaria) – and pronounced 'yustaberries' – are a genetic cross between black currants (Ribes nigrum) and gooseberries (Ribes grossuaria).
This thornless plant which resembles black currant in growth, but with leaves similar, yet larger than the gooseberry was developed by Dr Rudolph Bauer at Max-Planck Institute in Cologne Germany around 1970.
Jostaberries are more vigorous than their parent plants and can be easily propagated from cuttings at the time of pruning or can also be layered, though they do not tend to sucker.
Jostaberries are self fertile, do best in colder areas and will not fruit in warm districts. Leaves are not susceptible to powdery mildew, fungal dieback, currant bud mite and white pine blister. Jostaberries prefer moist well drained soils in full sun, produce small clusters of flowers borne on at least one year-old branches, followed by green berries with underskin veining resembling its gooseberry parent.
The largish berries can reach up to 1cm in diameter on ripening and mature to a purple/black colour more reminiscent of black currants. Their yield is higher than that of black currants and the sharpish tart flavoured fresh fruit, which is high in vitamin C also lends itself well to being frozen or used in various culinary applications.
Katrine and Mike Juleff of the Pennyroyal Raspberry Farm at Murroon in Victoria where visitors can pick their own berries have plantings of jostaberries along with the more traditional raspberries, brambleberries, youngberries, boysenberries, red and black currants, gooseberries, marionberries and strawberries.
Katrine explains, "Everything is organically grown, we don't spray a thing. We decided to get jostaberries as they were a little bit different and also have a good shelf life, – better than the softer berries. They are not prickly so are easy for people to pick and Middle European people who visit go mad over them! They say they had enjoyed them over in Europe where they had them planted there – they weren't wild plants in the bush. People do find jostaberries a bit tart after the other berries but usually people use them to make preserves."
Katrine now drip irrigates the plants only in summer as they have enough rain all the rest of the year. Jostaberries take about four years to fruit with a decent crop, and they fruit on last year's wood. It is best to prune in winter when the plants have lost their leaves and keep them to large shrub size below 2 metres.She takes out the oldest wood, the lowest side shoots and tip prunes each year to keep them under control and to allow access to pick the fruit from the 2nd and 3rd year wood then after pruning applies mushroom and poultry compost and heavily mulches the plants.
To keep the rosellas at bay the bushes are netted and it is best to harvest the fruit at full maturity when the sugars have had time to develop. Jostaberries are extremely well suited to savoury type sauces particularly served with fish or white meats.
It is a great addition to mixed fruit dishes as in summer puddings and also has excellent potential to incorporate into pies, cakes, ice cream or preserved as jam or jellies. Katrine also makes a semi-sweet jostaberry and thyme relish that goes beautifully with the locally producedl L'Artisan triple cream brie as well as any game or poultry dish.
Pennyroyal Raspberry Farm
Division Rd, Murroon 3242 between Birregurra and Barwon Downs,
For more information phone 5236 3238 or go to Pennyroyal Raspberry Farm
Pick Your Own Berry season, open 10-5pm from the first week in December to late January -  ring first for availability. Self contained cabin accommodation also available on the farm and the teahouse operates over the fruiting season.
Jostaberry plants are available in winter from New Gippsland Seeds, Diggers or Goodmans Seeds