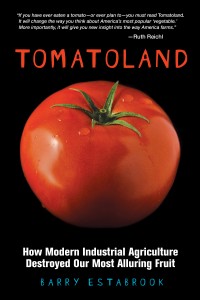 Across southern Australia this week, gardeners are watching their tomato seedlings anxiously and hoping this season will be better than last. But I've been reading "Tomatoland", by Barry Estabrook, and I will never look at a tomato the same way again.
Some people are tomato growers rather than gardeners. They grow nothing else. Tomatoes have a place in folklore. They prompt conversations in lifts between people who barely know each other: Will you have tomatoes before Christmas? Which ones have you put in this year? This week I bought supermarket tomatoes and they're as tough as old boots and taste like nothing! Do you take out the
side shoots? Do they need more than potash? That smell! It takes me back. Why would you bother to buy them? Hydroponics? You must be joking. How can you grow a tomato without dirt? You might as well eat a kitchen sponge…
Would you like to know how modern industrial agriculture destroyed our most alluring fruit? Or more importantly, why? That's the book that Barry Estabrook has written.
We grow a lot of out-of-season tomatoes in Australia, mostly from Bowen in Queensland and from a little further south in Bundaberg. Occasionally a tiny greengrocer in Victoria whacks up a cardboard sign in August that says: Tomatoes that taste like tomatoes!  But when you pick them up to sniff them you know there's a problem. Most flavour in tomatoes is actually aroma, and "Tomatoland" explains the science comprehensively. One grower Estabrook interviewed built his business on "the ineffable flavour ofa real tomato, the very trait that industrial producers have bred out of their product". Why would they do that? Because of the rush toward "higher yields, disease resistance, toughness, shelf life, and round uniformity …". You might know this already. But you might also be one of the people who "wants something red to put in their salad".  We are, as Estabrook says, engaged in an inevitable race to the bottom.
This is a great book, and stylishly written. An underlying theme is the exploitation of immigrant workers in seasonal agriculture. It also takes a good look at very successful examples of low-income housing, and again we could learn a lot from the US experience. Ditto Estabrook's study of successful organics on a commercial scale. — AMS
Tomatoland, by Barry Estabrook, is published by Andrews McMeel. Borrow it from your library or order it from
your local independent bookshop, at about $28 (depending on the exchange rate).