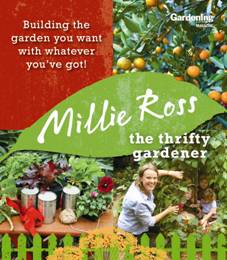 Review by Penny Woodard
Building the garden you want with whatever you've got.
Millie's personality leaps from every page of this engaging and informative book. In the introduction she says "Experiment, play, plant, cut, kill, compost, dig, and, every now and then , push your luck." "Your efforts (or lack of them!) can help a garden to thrive or just survive, but don't stress – tomatoes were making tomatoes well before we got involved." We so often over complicate gardening and Millie is telling us to just get out there and give it a go. With chapters on planning, designing and building gardens, as well as growing, planting, loving and eating your produce, The Thrifty Gardener is full of fascinating tips as well as careful and sound advice. Millie's emphasis very definitely reflects the title with suggestions about using found and recycled materials right through the book. In the chapter on growing she looks at bottles for garden edges, wooden pallets to make mobile beds and everything from toasters to polystyrene boxes and food tins as pots. The planting chapter covers plants to grow for fibre and structure, plants for hot spots, for privacy, for birds, for frogs, for windbreaks, for play, for ponds and much more.
I thoroughly recommend this book for both the beginner and more experienced gardener, but especially if you are a do-it-yourself person (most true gardeners are) and/or someone who needs to garden on a small budget. The Thrifty Gardener has a real sense of fun as well as being full of wise thoughts.
Borrow it from your local library, buy it from an independent bookshop or go to the ABC shop to purchase a copy online.
By Millie Ross, $35.00, Harper Collins Publishers
(The book was given to me by the publishers)