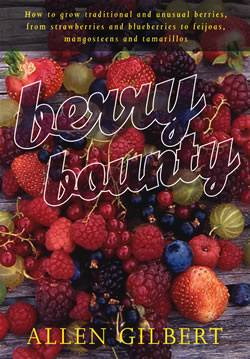 Berry Bounty, How to grow traditional and unusual berries, from strawberries and blueberries to feijoas, mangosteens and tamarillos.
I've never quite mastered the art of growing berries but I'm hoping this book will make the difference. Allen Gilbert is a well-known and very experienced garden writer who has grown most of the berries described in the book. He is very much a hands-on gardener with books on citrus, tomatoes, nuts, apples and espalier already published. He starts this one by defining berries. Many plants that we think of as berries (strawberries and blackberries for instance) are not technically berries. While plants such as guavas, magosteens and persimmons are berries (botanically speaking). So the first part of the book covers those plants that are generally believed to be berries, namely blueberries, brambleberries, cranberries, currants, elderberries, gooseberries, jostaberries, mulberries, raspberries and strawberries. The second half looks at botanically true berries that are not included in the above list. Cape gooseberries, Chilean guava, feijoas, goji berries, guavas, jaboticabas, kiwi fruit, mangosteens, passionfruit, pawpaws, pepinos, pepperberries, persimmons, pomegranates and tamarillos. It is a great mixture of common and unusual fruits and covers everything from how to propagate, grow and harvest, to pests and diseases and how to deal with them organically, as well as some well-chosen recipes showing how to use the fruit when ripe.
It is full of ideas I am itching to try, like growing strawberries in hay bales and raspberry canes in half-tanks; how to tell when feijoa are ripe, the best time to harvest goji berries and growing your male kiwi fruit in a pot so it doesn't take over. I actually have the opposite problem, and my male kiwi fruit keep dying but maybe a pot is the answer to that too. The other lovely thing about many of these berries is that they don't take up too much space. So whatever size your garden you will have room to grow quite a few. A really excellent, inspiring book.
Buy it from your local independent bookshop, borrow it from your library or buy a copy online from the store.
Berry Bounty by Allen Gilbert, Hyland House Publishing, Flexi-cover, full-colour, 224 pages $29.95