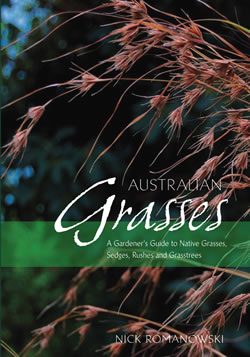 Australian Grasses, A gardener's guide to native grasses, sedges, rushes and grasstrees.
Introduced grasses have been popular in our gardens for many years now but not native grasses. To help encourage wider use of Australian grasses we have needed a well-written, accessible book on how to grow and use them, and finally we have one. Nick Romanowski obviously has a passion for, and wide-ranging knowledge of, this subject. In chapter 4 he profiles more than 200 native grasses, sedges, rushes and grasstrees and from the numerous photos we can see that many Australian grasses are as beautiful as the introduced grasses. They also have the added bonus of providing food and shelter to native animals, insects and birds, and unlike introduced grasses, very few of them are weeds or have weedy potential. The early chapters explain the differences between the different forms of grasses, as well as how they can be used in the average garden – lawns, borders, mounds, water gardens, bogs, formal and semi-formal beds and finally in pots. Growing, propagating, maintaining and even eating the grasses is also covered.
At present I have only four native grasses in my garden, I am now going to use the list of suppliers at the back to get some more and plant a more interesting understory to my native trees. Any one with an interest in native plants, or who just wants to try something different in their garden that will also benefit the environment, should read Nick's book. Nick hopes that his book will change the way Australian gardeners look at their gardens and act as 'a guide to those of us who are concerned about the effects on this country of introduced plants and attitudes to gardening.' Highly recommended.
Buy it from your local independent bookshop, borrow it from your library or buy a copy online from the store.
Australian Grasses by Nick Romanowski, Hyland House Publishing, Flexi-cover, full-colour, 192 pages $29.95