By Penny Woodward
I was leafing through the book I wrote with Pam Vardy, Community Gardens: A Celebration of the People, Recipes and Plants  because I had been thinking about refugees and immigrants and how much they have enhanced our lives. Since the new government has been in power (and to some extent the previous government) the rhetoric has again resembled that of the Howard government and the Tampa. It was the events surrounding Tampa that prompted Pam and myself to get together and combine our skills (hers in interviewing and cooking, and mine in gardening and writing) to produce a book that showcases just a few of the very many ways that people from other cultures and countries have added to our lives and lifestyles in Australia. To highlight this, I thought that from time to time by  writing about plants that are in the book, I would focus on unusual individual plants that we would not otherwise have available for our gardens or meals. Continue Reading
An organic guide to knowing, growing and using garlic, from Australian Whites and Tasmanian Purples to Korean Reds and Shandongs.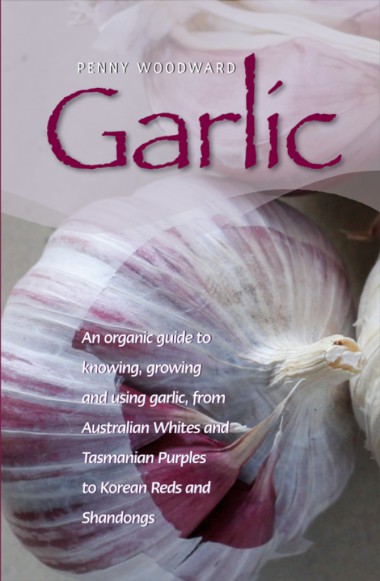 I am thrilled to say that my new book has been released and is in bookshops and can be purchased online from my website shop . If you would like your copy signed to a specific person, then send me an email through the contact page. I'll be talking about garlic and the book on radio over the coming weeks and there will be reviews in newspapers and magazines, so keep an eye out for them.
The book has taken me three years to write, but has been much longer in it's gestation. It covers everything from more than 50 different cultivars of garlic, to 
guidelines for growing organic garlic around the country as well as interviews with
 twelve Australian garlic growers telling you how and where they grow their garlic.
 There are also recipes for cooking, preserving and smoking garlic and even making your own black garlic as well as medicinal uses and an extensive list of growers and suppliers.
This book starts to make sense of the confusion surrounding garlic and explains that garlic is not just garlic, it is Creole, Rocambole, Purple Stripe, Turban, Silverskin and more.
These are a couple of short extracts from the book, starting with Garlic Thoughts Continue Reading
By Penny Woodward
I've been weeding and cleaning up parts of my garden, ready for some planting and for new spring growth. Now is also a good time (maybe almost too late) to divide perennials. One I love and have been digging and dividing, is dyer's chamomile. It's botanical name was Anthemis tinctoria but is now Cota tinctoria. I do understand the need to update botanical names in line with new research, but it does make it really hard for gardeners and garden writers to keep up! Continue Reading
Leeks, Allium porrum,  are a great vegetable. They are especially good for people who find onions and garlic too strong, but still enjoy a milder onion flavour. They are biennial vegetables that are usually grown as an annual. They thrive in cold and warm temperate climates and are best planted in autumn and winter. Continue Reading
Tree onions grow well from the sub-tropics to cold temperate regions and autumn and winter are the best time to plant them. They are now botanically classified as Allium x proliferum as they have been shown through genetic testing to be a cross between the common onion (Allium cepa) and the welsh onion (Allium fistulosum). Continue Reading
Thrift (Armeria maritima) was one of the first plants that I grew in my first garden and I have loved it ever since.  It is a delightful, tough little perennial that  grows as a small clump of tufting, grassy leaves with white, pink or red button flowers on slender stems in spring and summer. Their ideal home is rocky well-drained ground near the coast but they are adapted to a range of different climates and will do well anywhere except in regions with high humidity. So plants grow beautifully in cold and warm temperate regions but are not much good in the sub-tropics and certainly won't survive in the tropics. Continue Reading
By Penny Woodward
More tough herbs that are easy to grow and will withstand both drought and heat. And they are useful too! Continue Reading
By Penny Woodward
A variety of green feed is essential to chook welfare and happiness. This can be achieved in a number of different ways, ranging from allowing your chooks to free-range to supplying all their greens in the chook pen. My girls don't free-range, their pen, though, does get moved every few weeks to a new position. I provide them with fresh green leaves every day, usually just dropped into the pen. Alternatively they can be hung in a bunch, or placed into a basket. Keeping them off the ground helps to keep the leaves clean and prevents contamination from chook poo. Plants that can be harvested from the average garden and fed to chooks are weeds like dandelions, milk thistle and cleavers; vegie leaves such as brassica, lettuce and silverbeet, and herbs including borage, comfrey, lemon balm, nasturtiums and chicory. Some of these can also be grown in pots, placed in the pen and then removed to re-grow.  Comfrey is a particularly important green for chooks as it is high in protein, potassium and calcium, as well as several important amino acids. I try to make sure my hens have a little comfrey every day. Continue Reading
By Penny Woodward
Cretan thyme (Thymus longicaulis subsp. chaubardii) and other ground cover thymes will grow from sub-tropical to cold temperate regions. They need full sun and very well drained soil. Ground cover thymes are very useful to cover bare patches, while providing little competition for nearby plants. They are also wonderful for attracting bees, so plant them near fruit trees and vegetables that need bees for pollination. Continue Reading
Known in India as grandmother's herb the root of this 'cure all' plant is antiseptic and astringent. Turmeric is a herbaceous perennial that grows from the characteristic orange yellow rhizome with broad oblong leaves. It thrives in tropical and sub-tropical regions planted into well-drained humus-rich soils in autumn. In cooler regions plant into large pots, full of composty soil and sit the pot in a sunny position where it will receive almost no water during late autumn, winter and early spring, but make sure it gets plenty of water once the weather warms up. Turmeric is a heavy feeder so top up with compost or manures or blood and bone every few weeks once it starts vigorously growing in spring. Continue Reading
All words and images © Copyright Penny Woodward 2021.