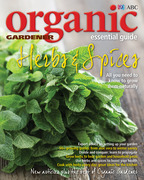 Organic Gardener Essential Guide: Herbs & Spices
Herbs and Spices is the fourth Essential Guide from Organic Gardener. This guide is a compilation of articles by some of Australia's top gardeners telling you all about how to organically grow herbs and spices, as well as how to use them to repel pests, how to cook with them and how to use them medicinally.
Peter Cundall introduces the guide in his usual inimitable style, Penny Woodward, Annette McFarlane, Nick Romanowski and Phil Dudman  explain  how to grow more than 50 different herbs and spices. There are tables that show you when to plant and what will grow in your region, as well as the medicinal and culinary uses of all the plants described. Every article is accompanied by beautiful photographs to show you exactly what the herb looks like as well as inspirational ways they can be used.