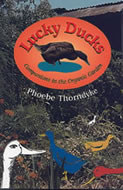 Lucky Ducks
Companions in the organic garden.
Phoebe Thorndyke
ISBN: 9781864470420
Hyland House Publishing, PB, 107 pages
Phoebe's ducks provide rich manure for her organic garden, they control weeds, give companionship and therapy, provide delicious eggs and turn gardening chores into a delightful pastime - all in a small, inner-city garden. Learn how to choose, buy, house, care for and keep ducks.