Phillip Johnson and Wes Fleming win 'Best in Show' at Chelsea Flower Show
They did it! For the first time in 100 years Australians have won best in show at the Chelsea Flower Show. I am so thrilled that Wes Fleming and his team have finally achieved the "Impossible Dream" and done so well. And I love the garden with which they won it. Phillip Johnson's designs have been inspiring me for years, exuberant and original and even from a distance it was clear that these values shone through to the judges.
I have been lucky to have been kept up to date with emails on a mailing list from Wes's mum, Dawn and she beautifully described their reaction to the win. (more…)
Sweet peas and Chelsea Centenary
I've never been any good at growing sweet peas, so I asked my friend to write about them for me.
Article by Anne-Marie Strickland and photos kindly supplied by Dr Keith Hammett
RELAX. You don't have to do what the Vatican says, therefore St Patrick can safely be ignored on the matter of when to plant your sweet peas. And 2013 is definitely the year of the sweet pea, according to NZ breeder Dr Keith Hammett, who recently visited Melbourne.
Never mind that 17 March has come and gone. It's a brave new world for lovers of the sweet pea's inimitable scent, beauty and profusion. And much of that is due to a century-old misunderstanding that had we Aussies rushing to plant our sweet peas by Saint Patrick's Day. You can sow them in Spring for a Summer display, and according to Diggers' field trials they will stand up to our hot summers. Tim Sansom, the company's CEO (Horticulture) says that with good planning, you can have sweet peas flowering for nine months of the year. To achieve this, you'll need to sow short-day varieties in  March, May, September and December; and sow long-day varieties in March, September and November. (more…)
Saffron surprise
By Penny Woodward
I planted my saffron bulbs (Crocus sativus) three years ago, and then waited and waited as year after year a few insignificant leaves poked their way through the soil each autumn, hung around 'til early spring and then quietly disappeared again. But this year was different. Early in the morning three days ago I wandered outside and started watering, meditating on many things, enjoying the morning ritual during this dry, warm autumn weather. Suddenly I realised that something had changed, there amongst those same spindly leaves that had appeared a week or so before, was a beautiful, purple flower with three distinct orange red stigma. (more…)
Sheep manure
by Penny Woodward
In searching for the best manure to use in my garden I drew up a list of requirements. I needed to be sure that:
1.It was not full of chemicals like pesticides and worming agents.
2. It was easy to handle.
3. It hadn't travelled too far to get to me.
4. It wasn't full of weed seed.
5. It wasn't too fresh.
6. It wasn't too expensive.
The best result would be a nearby organic farm that was happy for me to collect the manure for free. Unfortunately that doesn't exist in my area and organic farmers these days realise the value of their manure and either use it themselves or charge well (quite legitimately) for it to be removed. Local chook farms are not organic as the manure is full of the pesticides used to keep pests at bay, a definite no! I have used local horse manure, but always compost it first as I never know whether the horses have been recently wormed. Although horse manure has weeds, if I collect it locally, they will be local weeds so chances are I already have them in the garden. But last year I found an alternative solution. I discovered The Gift of the Wooly Beast (lovely name) and since then this product has been the only manure I have used in the garden. (more…)
Love-in-a-mist
By Penny Woodward
A beautiful delicate-looking annual with feathery blue-green leaves, love-in-a-mist (Nigella damascena) reaches about 40cm in height and despite it's looks is surprisingly tough and easy to grow. It can be grown from the tropics (in winter) to cold temperate regions thriving in most soils as long as they are well-drained. (more…)
Dragon fruit
Article and photo by Gail Thomas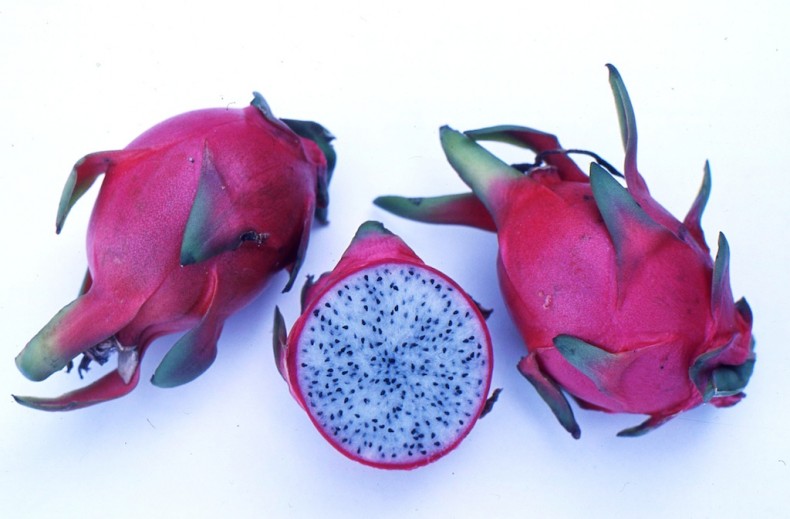 It looks as exotic and decorative as its name, is a hugely popular fruit in Vietnam and is now a familiar sight on greengrocers' shelves in Australia.
Dragon fruit's origins are in tropical central and South America, it's a member of the cactus family and while there are red and yellow fleshed varieties of Pitaya, as it is also known, it is the white-fleshed Dragon Pearl fruit (Hylocereus undatus) also known as Thanh Long which is the most common variety available commercially. (more…)
Lettuces
Article and photos by Penny Woodward

Now that the weather is cooling and autumn is really here it is a great time to plant lettuces. If you immediately think of the ubiquitous plain green hearting types like icebergs, then think again. Don't get me wrong, I love a good crisp hearting lettuce but lettuces aren't lettuces any more. They are red and yellow and spotted and bitter and sweet and curled and smooth. They are also fast growing and versatile. Grow them in pots and hanging baskets, use them to fill an empty spot as slower growing crops develop or grow them as a border in an ornamental garden bed. With the variety available you should never be without lettuce to add to your salads.  (more…)
Melbourne International Flower and Garden Show
By Penny Woodward

We are so lucky to have such a good garden show in Melbourne, and an unsurpassed site in the Carlton Gardens and the Exhibition Building. I was there for four of the five days and don't think I have seen so many people in previous years. There were some wonderful display gardens, fabulous floral displays and interesting gardening related commercial stands. (more…)
Paradise pears
By Gail Thomas
There's nothing better than a fresh juicy ripe pear, simply by itself, as a perfect match with a glass of Sauternes or in any number of sweet or savoury dishes. Kicking off the season in January and February are the delightful tiny paradise pears, also sometimes known as sugar pears, crystal pears or faccia bella, with their rosy blushed cheeks. (more…)
Heartwarming heartsease
By Penny Woodward
Heartsease (Viola tricolor) is a member of the viola family, closely related to pansies and violets. It has acquired an intriguing list of names over its long history, names that reflect its diverse characteristics. Some call it Johnny-jump-up and kit-run-about, both names earned by its endearing habit of suddenly appearing and then thriving in odd corners of the garden. In spring more than two years ago I planted heartsease in one corner of my garden. It grew quickly and flowered prolifically until the weather got really hot and dry. The plants died and much of the seed dropped to the ground, the rest I sprinkled around the garden. The following autumn many new plants poked their oval-shaped green leaves through the soil and a few weeks later began to flower. The cycle has repeated itself and I'm now at the point where I'm waiting for cooler weather and rain, and wondering where the new plants will appear this time. (more…)
All words and images © Copyright Penny Woodward 2013.